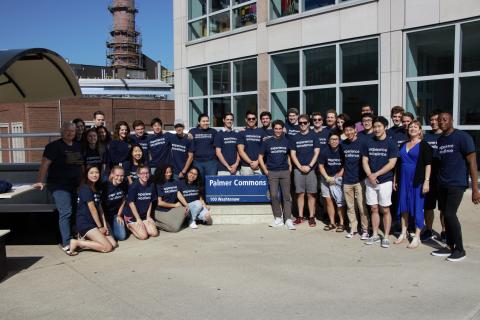 We Want You On Our Team!
Palmer Commons serves the University of Michigan community by providing conference and event spaces and services, dining facilities and departmental office spaces. The work we do would be impossible without the help of student employees. We strive to make Palmer Commons a fun and rewarding place to work where student employees learn and develop real-life skills while earning some income. There are a variety of positions that you can apply to at the Student Employment Office. All positions are posted separately. Check out some of the job positions below and apply directly to those you're interested in. To learn more about our team, check out the Staff Profiles.
Student Leadership
Student Building Manager
Student Building Managers serve as the manager on duty at Palmer Commons and are the key representatives to all facility users ensuring customer satisfaction. Managers help coordinate guest events and activities, oversee safety and security of the facility and direct set-up staff to troubleshoot and resolve problems with audio-visual equipment. This position gives student experience in leadership, time management, problem-solving and customer service.
Code: 21350 | Starting at 17.00/hour
Creative Services
Multimedia Coordinator
Multimedia Coordinators afford students real-world experience in social media management, informational and promotional video/print media creation and distribution, and operational graphics and video production for a university conference and community center. This position offers a flexible schedule and the opportunity to build on skills such as project management, responsibility, marketing and networking.
Code: 22600 | Starting at $16.00/hour
Art Coordinator
The Art Coordinator acts as the Palmer Commons liaison to build relationships within the UM art community, including students, departments, faculty, as well as Ann Arbor community resources in order to build and rotate the Palmer Commons art collection. This is a great opportunity to build practical experience in installing and exhibiting art as well as build on skills such as project management, responsibility, marketing and networking.
Code: 22600 | Starting at 16.00/hour
Event Services
Event Services Coordinator
Event Services Coordinators provide scheduling and administrative support within the Event Services department at Palmer Commons. Coordinators answer guest questions at the inquiry level, enter data and create diagrams that support guest events. This position is Monday - Friday during the hours of 8:30am - 5:00pm. Schedule is flexible, and our students learn event planning, customer service and administrative skills.
Code: 22600 | Starting at 16.00/hour
Welcome Services
Welcome Desk Attendant
Information Assistants staff the central Information Desk answering questions and providing referral information about UM and selected community resources. Staff delivers mail, assists in event planning, computer data entry, file maintenance, answering phone calls and message taking. As front-line staff, students will gain experience in customer service, administrative tasks and time management.
Code: 53400 | Starting at 15.00/hour
Conference Services
AV & Set-up Staff 
The Conference Services team provides support for all events happening at Palmer Commons. This includes set-up and teardown of meeting furniture and AV equipment, onsite technical support and maintenance of conference equipment. Technologically inclined people excel in this position. This is an opportunity to fine-tune problem solving, customer service and teamwork skills as well as build audio-visual knowledge.
Code: 021300 | Starting at 16.00/hour
Audio/Visual Lead
AV Leads train, assist and guide Conference Services staff during event set-ups, emphasizing best practices of AV and event delivery in a hospitality environment. Strong audio-visual knowledge is required and a desire to lead projects. AV Leads will also assist the Technical Services Coordinator with inventory maintenance, scheduling of CS staff and benchmarking technology trends. This is an opportunity to develop customer service, leadership, problem solving research and time management skills.
Code: 022600 | Starting at 16.50/hour